Koe de Oshigoto! Chapter 14
Download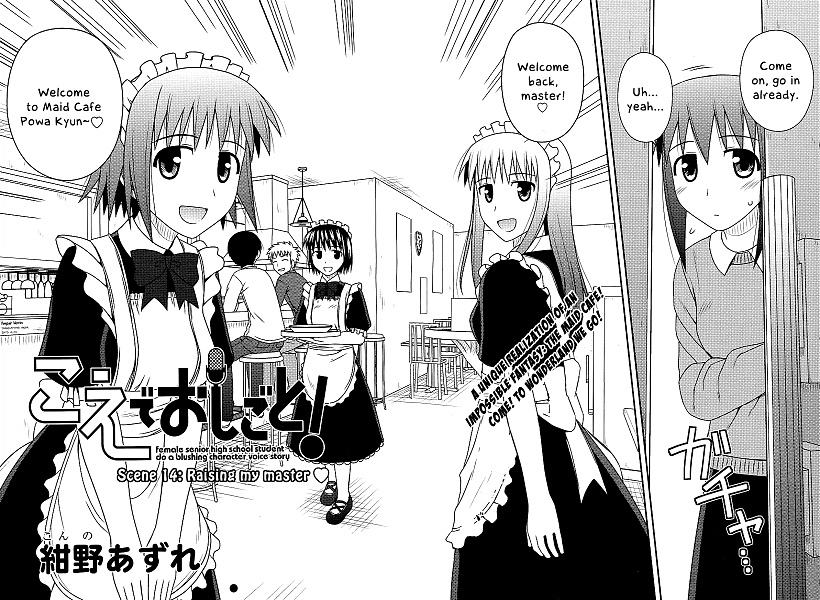 Perhaps some of you have noticed that our rotating quotations at the top of the page has changed. We've added a few more witty remarks, some pertaining to the addition of Literature Girl to our scanlation lineup, some more randomness, et cetera. One of the additions is the phrase "never make promises."
So we didn't get the chapter out before August. But we did get it out before August ended! Less than a month late. I sincerely apologize for the delay. Summer creeps up on us and we simply are too busy… doing other stuff. But now that Chapter 14's out, all's well that ends well. So no more promises from now on, things will be out when they're out.
We do have Chapter 15 already, translation's currently in progress. Just sit tight, everyone; we'll have it out befor—- never mind that. In all seriousness though, now that summer's over, we're probably doing… more legitimate things that don't involve any of the activities Jiu mentioned in his previous post. Which means we have more time to look after the needs of our readers? Probably not.
In addition, thanks to the commenter who posted the news announcing YMT's return to syndication. We're excited to hear that!
Anyways, pardon the delay once again, and please, enjoy this newest chapter.
In Moe We Go,
Akira
PS: Another reason why this chapter took so long to do was because I couldn't help but feel absolutely retarded when translating it. Afterwards, Jiu could not stop facepalming, so we gave it off to Shadowknight, who couldn't stop laughing. You'll see why.
*link fixed (again), chapter reuploaded with page 11.
Posted 31 August 2009, 03:45 by Akira · Comment [98]
---
Koe de Oshigoto! Chapter 13:
Download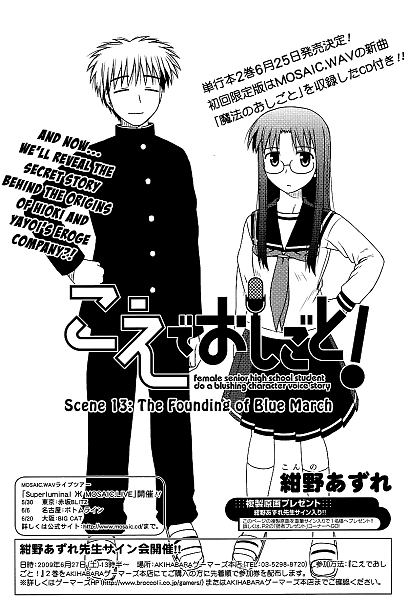 It's been a while, everyone, but here's Chapter 13 of Koe de Oshigoto, in which Yayoi tells the gang a story about back in the day…
Free Talk:
So it's the summer, right? Summer means students are busy bullshitting around. I'm currently out of the country, so I apologize if work is slow. Koe de Oshigoto 14 has been obtained and I'm currently working on translating it. I promise it'll be out before August, for sure.
I also missed Konno Azure's autograph session at Gamers in Akihabara by a day. I cried… (Well, not really.) In any case, thanks for supporting us as always. Bungaku Shoujo will also continue, albeit (as we said before) at a much slower rate, since it's a much more difficult edit. I'm glad that you guys like it! It's one of my favourite series.
In addition, we are always aware that other groups are also working on series that we happen to pick up. We don't mind, actually; if we did, we wouldn't have picked those series up in the first place. Better work only comes through competition.
Finally, I apologize for any translation errors or typos that we made during this chapter. I translated it on the plane, and Jiu is perpetually tired.
Cheers,
Akira
Posted 2 July 2009, 21:56 by Akira · Comment [24]
---